31 luglio 2017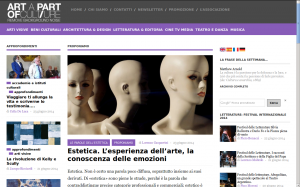 Su "Art as a part of a cult(ure)" ho la rubrica Le parole dell'estetica.
Ultimo articolo: Cultura estetica. L'arte per l'arte, le relazioni e i trattamenti di bellezza. (31/7/2017)
Commenti disabilitati

su ART AS A PART OF A CULT(URE)
Nessun commento
No comments yet.
RSS feed for comments on this post.
Sorry, the comment form is closed at this time.